Pikopiko Takakau, Fiddlehead Fern Bread
Pikopiko Takakau, Fiddlehead Fern Bread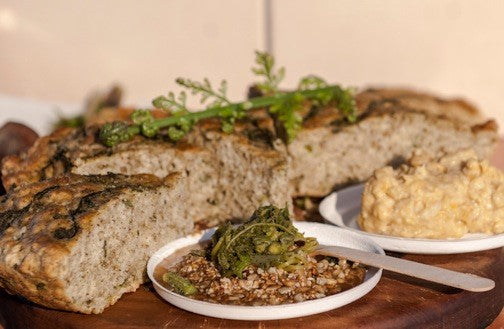 Pikopiko fern is used in this bread for its flavour, texture and great looks as a garnish. Once the pikopiko has been cooked and cooled, the bread is quick and easy to make and is fabulous paired with horopito hummus and pikopiko
pesto. Makes 8 pieces. Time: 45 minutes, plus 30 minutes to reconstitute
and cool dried pikopiko or cook and cool fresh pikopiko.

10 pikopiko fern tips
2 cups plain flour
2 tsp pikopiko fern powder
2 tsp baking powder
1-2 cups soda water

Preheat the oven to 200C
Roughly chop 2 pikopiko fronds. Reserve the other 8 fronds of garnishing.
Sift the pikopiko powder, flour baking and salt into a bowl and mix together.
Add chopped pikopiko to the dry ingredients and make a well in the centre.
Add soda water and gently mix the ingredients together. The key to this bread is keeping the dough soft and wet. Overworking can make the dough tough and the bread rock hard.
Lightly spray a fry pan, baking tray or sponge tin with oil.With wet hands, place the dough into the pan or tin and press down slightly to make the dough flat
and smooth.
Arrange the reserved pikopiko fronds on top of the dough by lightly pressing them into it the design of your choice.
Place the dough in the middle of the hot over and cook for 20 minutes.
After 20 minutes, remove the bread from the oven and lightly brush the top with your favourite oil or an egg wash. Place the bread back in the oven for another 15 minutes or until golden brown.
Remove the bread from the oven and test it by inserting a knife in the centre. If the knife comes out clean and no wet dough sticks to the knife, the bread
is cooked.
Take the bread out of the pan and wrap it in a clean, damp tea towel. Leave it to cool on a rack.

To serve:
Sprinkle foodies flaky sea salt on top of the bread after brushing
the loaf with egg wash in step 9.
Brushing the top of the bread with avocado or foodies extra virgin olive oil gives it a glorious green glaze.
The next day, split the bread, toast it under a grill and fill it with thin slices of lamb, aioli and fresh salad greens.