Tuscan Meatballs - Annabel Langbein
Tuscan Meatballs - Annabel Langbein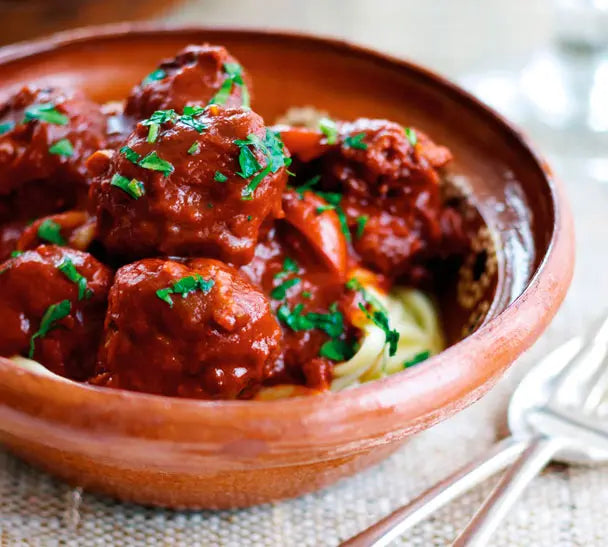 INGREDIENTS
Meatballs
500 g pork mince
3 rashers streaky bacon, finely diced
1 onion, grated
3 tbsp grated parmesan
2 tbsp chopped parsley
2 tsp thyme leaves
1 tsp foodies Organic Flaky Sea salt
freshly ground black pepper, to taste
200 g day-old rustic bread
1/4 cup milk
250 g ricotta
3 eggs, lightly beaten
Rich Tomato Sauce
2 x 400g cans crushed tomatoes
2 tbsp tomato paste
1 cup red wine
3 cloves garlic, crushed
1 tsp finely chopped rosemary
1 tsp thyme leaves
1 tbsp sugar
1 cup water
foodies Organic Flaky Sea Salt and freshly ground black pepper, to taste
To Serve (Optional)
1 packet dried spaghetti
finely chopped parsley
Method
STEP 1
To prepare the Rich Tomato Sauce, place tomatoes and their juice in a large pot with tomato paste, red wine, garlic, rosemary, thyme, sugar, water and salt and pepper to taste and simmer, uncovered, for 30 minutes, stirring now and then.
STEP 2
While Rich Tomato Sauce is cooking, prepare the meatballs.
Preheat oven to 220°C.
Place mince and bacon in a large mixing bowl with onion, parmesan, parsley, thyme, salt and pepper.
Mix by hand or with a wooden spoon until evenly incorporated.
STEP 3
Whizz bread in a food processor to form crumbs, add milk and pulse to combine. (Or grate the bread into a bowl and stir in the milk).
Add to the mince mixture along with ricotta and eggs and mix to combine.
The mixture should be light, soft and moist. Using wet hands, form the mixture into balls about the size of golf balls.
Place in an oiled baking dish and bake until browned and cooked through (about 20 minutes).
STEP 4
Remove browned meatballs from oven and drain off and discard any fat.
Both meatballs and Rich Tomato Sauce can be cooked ahead until this stage, kept in the fridge for up to 48 hours and assembled and reheated when desired.
STEP 5
When ready to serve, pour hot Rich Tomato Sauce over hot meatballs, cover with a lid or tin foil and bake at 180°C for 30 minutes.
If you prefer, add the meatballs to the Rich Tomato Sauce and simmer on the stovetop for 20 minutes.
STEP 6
While meatballs are cooking or reheating, cook spaghetti according to packet instructions.
Drain and divide between serving bowls.
Spoon hot meatballs and sauce over spaghetti and sprinkle with finely chopped parsley to serve.