Maori Bread
Maori Bread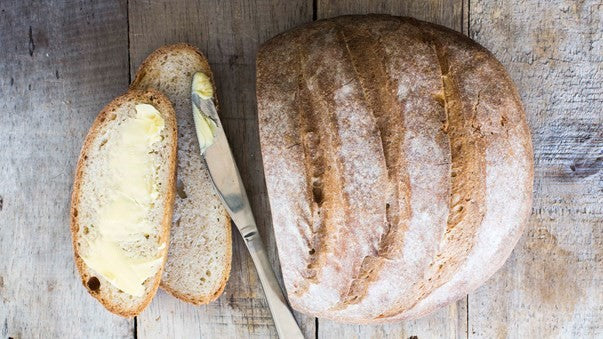 Rewena Paraoa is a traditional Maori sourdough potato bread. It is made with a potato starter or "bug'', that ferments and causes the bread to rise and gives it its unique flavour. I read that making Rewena can take years to truly master and because it is made with a completely natural starter bug I did find it quite challenging. Makes 1 loaf.
Ingredients
1 cup Potato, diced
2 teaspoons sugar
4.5 cups plain flour
1 cup wholemeal flour
3 teaspoons foodies flaky sea salt or foodies manuka smoked flaky sea salt
Directions
Boil the potato in 2 cups of water then leave to cool, do not add salt. Add sugar and half a cup of the flour, then use a potato masher to form a batter. Place in a large Agee jar and cover with a clean tea towel. Leave in a warm spot for 24 hours so it starts to ferment. It should be bubbling furiously and almost double in size when it is at its peak, this is when you need to make your bread dough.
For the bread, measure the remaining plain flour and wholemeal flour into a bowl. Add the potato bug, an additional 200ml of water, salt and knead by hand or with a machine for 8 minutes until it is silky and supple in appearance and in feel.
Place bread dough in a lightly oiled bowl, cover with a clean tea towel and allow to prove in a warm spot until double in size. This may take up to 4 hours.
Heat oven to 230 degrees celsius. Gently tip bread dough out on to a baking tray, lightly dust with flour then cut slits across the top. Place in the oven with two ice cubes on the baking tray (this will help it rise).
Bake for 35 minutes then reduce the temperature to 210 degrees celsius for a further 10 minutes. It is cooked when the crust is dark golden brown and it will sound hollow when tapped on the base.