Cheesy Polenta Makes Roasted Asparagus That Much Better
Cheesy Polenta Makes Roasted Asparagus That Much Better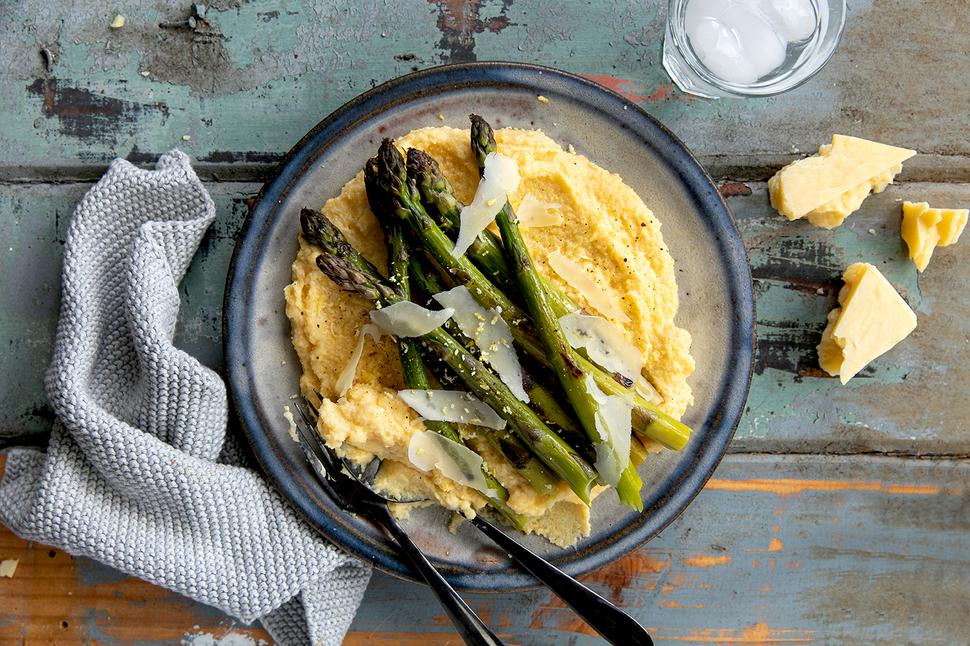 ROASTED ASPARAGUS WITH CHEESY POLENTA
Recipe by Angela Casley, VIVA magazine.
Serves 4
INGREDIENTS
2 bunches fresh asparagus
2 cloves garlic, peeled and crushed
1 Tbsp foodies extra virgin olive oil
foodies flaky sea salt
cracked pepper
½ lemon, to squeeze
1 Tbsp lemon zest

Cheesy polenta*
1 cup chicken or vegetable stock
1 cup milk
1 cup polenta
25g butter
½ cup grated parmesan, plus extra to serve
foodies flaky sea salt and cracked pepper, to taste
METHOD
Step 1
Preheat oven to bake 200C. Place the asparagus with the garlic on a baking sheet on an oven tray. Rub over the foodies extra virgin olive oil, season with foodies flaky sea salt and cracked pepper, and roast for 15 minutes. Remove the oven tray and squeeze over the lemon juice and zest. 

Step 2
For the polenta, bring the stock and milk to a simmer in a saucepan. While stirring, pour in the polenta and cook for 5 minutes. Continue stirring to prevent any lumps. Polenta gets very hot, so if it bubbles, be careful not to burn yourself. Stir through the butter and parmesan, then season with foodies flaky sea salt and cracked pepper.

Step 3
Serve the polenta in bowls and top with the roasted asparagus. Enjoy!
Notes from the editor:
*Polenta is a northern Italian dish made of coarsely ground corn. Freshly cooked, polenta is soft and creamy, like porridge or mush, and makes a terrific bed for sauces. It's a good gluten-free substitute for just about any dish that calls for pasta. When polenta cools, it firms up enough to be sliced and fried or layered like pasta sheets.
The woody end of asparagus stalks are usually snapped off and discarded, but here's a tip: they're packed with flavour, so use them in a broth or soup.
For plant-based chefs, just replace the relevant ingredients with your favourite alternative.